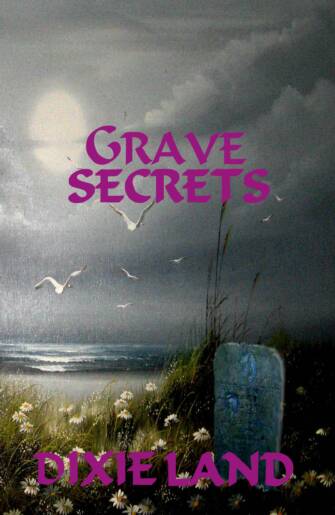 Susan Slade's life was about as good as it gets. The only child of  middle-aged parents, she grew  up secure in their ceaseless love and attention. Now a young woman, she's surrounded by friends and a man who wants to marry her.

                              ...

Her picture perfect life begins to unravel with the deaths of her parents only months apart. She braves the agonizing process of settling their estate only to find herself caught in a deeper pain. As she innocently sorts through her mother's dresser, she finds a stack of yellowed documents--

documents that shake Susan's faith in all she thought was real.

Thus begins an anguishing search for her true identity that takes her to the North Carolina coast and into the arms of another man. The suspense and drama never  relent as Susan faces and defies forces intent on blocking her search--and follows a trail of buried secrets that uncover forbidden liaisons and dark, deadly scandals in her ancestry.

Boy oh Boy! Dixie, it would be too easy to say this is your best ever!  After the first page, I was hooked.   I really lived this book. The characters spoke for themselves so perfectly I felt I knew them. It is exciting, kept me curious to the very end, and it was unexpected, yet satisfying. Thanks for your wonderful writing voice!  Kathryn Fisher, N.C.

Just finished Grave Secrets--definitely your best yet! Great plotting, fine characters, very suspensful--a real page-turner (Obviously, since I got it yesterday and finished it today!)   Elizabeth Hawn, Author, Sifting Through Secrets. Hendersonville, NC

Dixie, Received your book Saturday and read it cover to cover Sunday. It's a very good book! And I think it's the best of yours that I've read.  You have a way of stimulating interest from chapter to chapter which makes it hard to put the book down, which I didn't. The twists and turns in the story create a mystery in every chapter.  I think your book would make a good movie!  William ( Bud) Kruse, Pinehurst, NC

I love your book!  I had some time to get into it more last night and it's just like your other ones--I have a hard time putting it down. The suspense starts from the beginning and I can't wait to see what kind of man Reid is going to turn out to be. He's so handsome and I can just picture him as you describe him in the book. But poor Wes. I'm torn between the two. As I read further, I'll know who the good guy is. My grandson's name is Reid, you know. He's 22 and lives in Texas. I've been a little worried about Krystal.  Isn't it something that we talk about this book as if it was actually happening to a family? It is so real and your life gets woven into the lives of those in the book. You do a great job describing everything that is happening from their surroundings to the feelings of the characters.   Norma Hammer, Clinton, Iowa  

                                                                    P.S.


I finished your book on the way to Iowa City today and I loved it. I was glad I was sitting in the back seat because I shed a few tears when....... It was so emotional.  I was surprised that.......  but what a perfect ending!
You have a way of putting a story together that keeps your readers in suspense all the way through. I think I'll finish a chapter and put it down for a while but I have to keep reading to see what's going to happen next!  Norma.

Hi  my friend,   Well, not may people are able to do it. You made me tear up at the end of the story. I love it when a book makes me cry. I think Grave Secrets is one of your best!!!  Don't know if you'll ever top that...right up there with Serenity...Loved it!  Lynette Hall Hampton, author, Willa Hinshaw mysteries.

Kernersville, NC

Dixie, I've read Grave Secrets, and it was wonderful, just like your others!

I love reading your books and would like to have the three I haven't read and Circle when it's reprinted!  Glenda Nicholson, Greensboro, NC

Dixie, I received the book today and am already on page 60. Love the cover, story is intriguing.    Helen Goodman, author, Fonnie Beachum mysteries... Finished it, a great book! Excellent writing combined with mystery and suspense!

Dixie, Another great book! I don't know how you do it. Finished it earlier tonight but just got to the computer.  Thanks again, now get the next one going!  Sally Wilson Hansen, SanMarcos, Tx.

You need to come down here and do my Avon and clean my house! Neither is getting done since I can't seem to put your book down! It is very, very good and exciting and spellbinding. I won't go to the reader's comments because I don't want to know anything about how all of this will pan out--but I know it will be fireworks!

Take care!  Linda Linares, Wilmington, NC

I thoroughly enjoyed your book! My eye sight isn't good and even though it was large print, I had to use a magnifying glass to read it. But it was worth it. I began reading  Saturday afternoon and when bedtime came I didn't sleep well. I kept thinking of your story. I started reading again on Sunday and finished it that night. I slept like a baby! Thank you for writing such a wonderful book, Dixie.  B. Myrick, Greensboro, NC

02/25.  To let you know...I'm reading it a second time! I love your writing!

I thoroughly enjoyed the book. It came late Tues. afternoon. I like the way you jump right in with the problem and then keep we readers hanging on. I would think I'll just read one more chapter, then one more, but yesterday I had to quit to go to a funeral. I finished the book last evening. I like that your chapters are not too long. I've always heard you should write what you know, and I see you used your nursing experience in your book. I'm very proud of you!       D. Marbury, Arkansas

Grave Secrets is one great read! It's filled with love, desire and much suspense. Not to be overlooked is the large print which adds to the joy of reading it. This certainly is a five-star book to be enjoyed by all readers!

D.E. Joyner

Good morning, Vern is almost through reading "Grave Secrets". She read until midnight last night!!! We just got it yesterday afternoon!! Ken, Topeka, Ka.

Dixie, I read your book this past weekend. I just found one problem with it. I couldn't put it down! It was sooo good!  Kathy, Kernersville, NC

Dixie, I have really enjoyed the new book you sent us! I have read it several times and never tire of it. Are you ready to write another book? Keep them coming!   Jean Redin, Ca.

Dear Dixie, Grave Secrets arrived yesterday. I started reading it last night, have just finished! I'm sorry to have finished it already, it was so good I could have read on and on. What a page turner...as all your books have been!!! And what a great story--just the right combination of romance, drama, mystery, all surrounded by the most beautiful of settings. To say that I truly enjoyed this one would be an understatement!! You are such a good author!! I had to read something like this immediately in the midst of our dreary Wisconsin weather. Really looking forward to your next book!!!

                      Love, Jo Lynn, West Allis, Wi.

PS Thank you for brightening my day with your wonderful writing!!

Ms. Land's novel, "Grave Secrets" is a fascinating tale of mystery and intrigue. The reader gets hooked from the very first page, with each succeeding page filled with hints of things to come. The author moves the story right along without side trips to pointless destinations as is popular with renditions by some contempory writers. A fascinating story from beginnng to end.  Don Stuedeman, Ca.

Dixie, Loved your book and really do think it would make a great movie--would not know who to contact but could also be used as a TV movie. Great job!! J. Hancock, Missouri

I  love your books!!! They're sooo good, I feel like I know those people and the things that happen to them are happening to real people! I sat up all night reading, the next day I went upstairs and found Serenitiy and Return to Serenity. I've read them all now! You have to write another Serenity book!  I loved them both and want to know more about the characters.    Helen P. Kernersville, NC

Hi,  I started Grave Secrets on the plane to Houston and finished it the next day. I think it's your best yet! I loved it!!! How do you come up with your ideas? Good for you!     Linda H. Pasadena, Md.

Hi, dear Dixie, I finished Grave Secrets last night. It gives me great pleasure to tell you I think this is your best yet. Your plot kept me guessing right up till you were ready to reveal the secret, and wow!! What a shocker!  Love, Dorothy P. O'Neill, author of 11 mystery and romance books published by Avalon.

Hello Dixie, I just finished your book and had a great time reading it. The story had me turning page after page. You are really good at leaving the reader hanging at the end of each chapter! One thing I really liked is that I kept thinking I had things figured out but I found I was wrong each time. Your characters seem real, there is win and lose, joy and sorrow, as are the events in true life. (P.S. I'm really glad things turned out well in the end.)

Keep writing!!!!!  Anne, Maine

Dixie! I'm loving Grave Secrets! I'm really into it. Reading your books is like going to a  movie and eating popcorn. You don't want to stop!

Love, Shirley E. Nevada

Dixie, I've read Grave Secrets which I thoroughly enjoyed. When I began reading, I decided what the ending would be. Boy, was I wrong! I liked the way you carried the reader along and suddenly made unexpected turns. I could not put the book down and read the whole story in one day. Also, I liked the fact that on page 93 when Susan chose two new paperbacks to carry with her, that you used two local authors and gave the names of their books which showed to all your readers what a classy lady you are--promoting others.    Drina H. Lumberton, NC

Hi Dixie, I made the mistake of starting Grave Secrets late night before last--got very little sleep because I couldn't put it down. It is wonderful--you have such a talent making people come alive and their life situations so real and believable. Looking forward to your next book. Mom has started reading now and Dad is already rushing her so he can read it! Take care and hurry and write us another one!  Lanie W. NC

Had to let you know--Mom and Dad have both read GRAVE SECRETS now and both loved it! Dad usually reads 2-3 books a week and he says yours is by far the best in several weeks!

You may most certainly use any of my comments on your website because they are so true!   Lanie W. NC

I finished Grave Secrets last night. I couldn't set it down and it was after 11:00 when I finished. Again I was thinking that......but you always have another amazing turn of events.  In the last chapter, I cried along with Susan when.......This was the perfect ending.  Bravo!

I wasn't tired after finishing the book because I was imagining how life would be from then on for Susan. My head works so much when I read your books, how could anyone fall asleep reading them? Now I can hardly wait till the next one comes out.  I think you are a GREAT writer. I can see you in the books from certain ways you tell things.

Karen Bartachek, Iowa.  Mercy Hospice volunteeer, Mercy long term care volunteer, Entertainer, Keyboard and Saxophone.