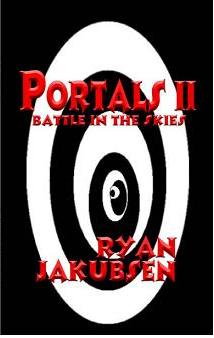 The Pierce brothers' adventure continues in their quest to return home after they re-capture the wolf manimals rightful land.  But the celebration is cut short when they discover that the diamond, which is key to operating the portals, is missing.

The search for the lost control begins only to have the sky darkened by a cruel, viscious new enemy, the crow manimals. As they run for cover, Lucy is snatched from Axel's grip and carried to a far off land.  Awesome and powerful eagle manimals join forces with the brothers and  the wolf manimals to search for Lucy.  Just when things are looking hopeful, Axel is critically wounded.

You won't want to put this fast-paced page-turner down as you live every minute of the adventure with Axel, Exile, Alex , Jared and Lucy and their new friends!

Ryan's books came yesterday and I read all of Portals II last night. I thoroughly enjoyed the sequel to Portals. It starts right away where Portals left off, and I had to finish the book once I started it. It's just amazing how he weaves his story through all those manimals, good and bad. And then he wove the eagle manimals in to be the good guys. While the Crow and Lion manimals aren't the nicest characters, he also brings much love and caring into the four brothers, Jackellel, Lucy and the good manimals. They all look out for one another and stand up against the bad manimals to make sure nothing happens to their family and friends. Ryan has such a loving family himself and the love shown between the brothers in the story reminds me of the love he has for his real family.  Brother Ross did a great job with the illustrations too. Now I can't wait for Portals III. With Ryan's imagination and ability to tell a story, and make the characters seem so real, I have no doubt that he has a bright future ahead as an author.

Norma Hammer, Iowa

Ryan, I just finished reading Portals II. I bought it this afternoon. I am ready for the next one. I found myself getting right into the story. I am amazed at the way your mind works. Way above a 9 yr. old's. I loved it!

Barbara Barton, Kernersville, NC

Hi Ryan, I finished Portals II last night and am once again impressed with your usage of words and understanding of concepts. The reasoning and descriptions in this book are unbelievable!  It was so good to read your second book and I await the third.  Love, Kathy Fisher

Ryan:  You are the best. I really enjoyed talking to you, and the books were wonderful! I liked the suspense. I especially like the little "love" touch you put in there with Lucy; all stories should have a pretty girl in them. Keep on writing. I want to read the next one. Bob Burchette,  column writer, Greensboro News and Record.

Hello Dixie--I have talked to my ten year old grandson who read Ryan's new book. He told me he really liked it--found it interesting and suspenseful. He thought it very good, but too short, and he hopes Ryan will write the next one soon.  He is our youngest grandson, who lives in Virginia.  Would you believe he read all 7 Harry Potter books this summer??!! Joan Borota, Clinton, Iowa.

Wow, Joan! I'm so impressed with your grandson reading the entire Harry Potter series this summer at ten years of age!!! I love hearing of children who are so interested in reading.  Thanks for sending his review. Dixie

This boy can really write! What an imagination. I think this book was better than his first.    Pat W.  reader in Iowa

I'm ordering another of Portals I, so my son can read it. He refuses to read Portals II before the first one and my grandson won't give his up. It isn't selfishness on his part, it's simply that he treasures the book  so much and has read it many times. He keeps it in his special hiding place.  L. C.  Iowa

I want you to pass this on to your grandson. My grandson, Tyler, age 7 visited from Virginia over the weekend and I gave him the Portals books. He "ate the first one up... absolutely loved it and is ready to start on the second.  Chuck S. North Carolina

P.S.  Tyler called me long distance last night and said he'd finished Portals II. He wanted to know if I could send him the third one.  Ryan, get busy!!

To Chuck, Tell Tyler I passed the message on to Ryan when I picked him up from school today. He wrote another chapter this afternoon! Let Tyler know he has clout with Ryan!!

Dixie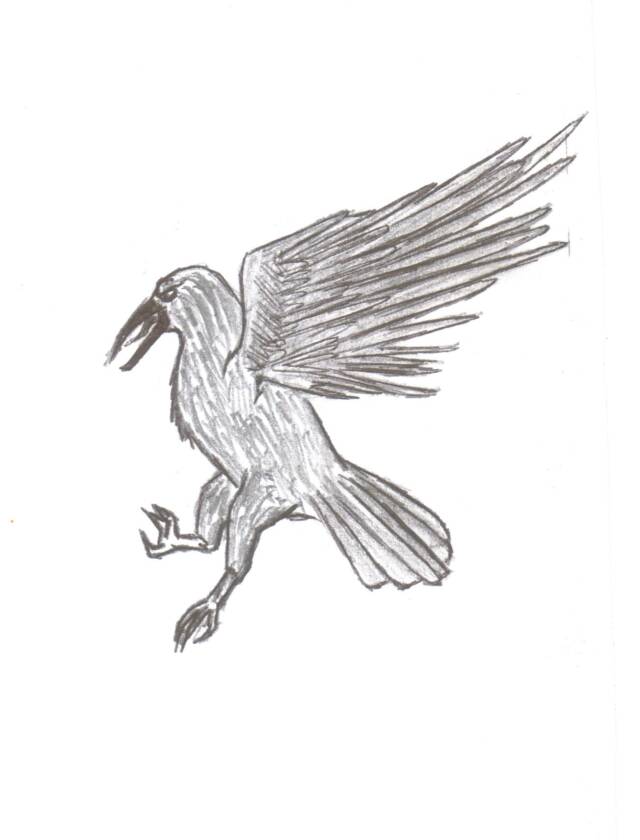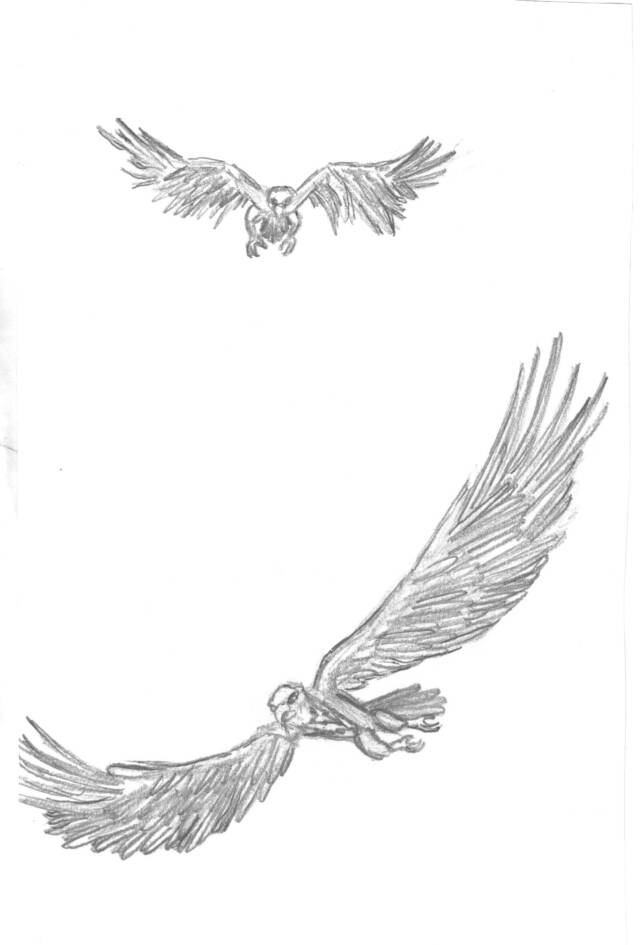 Apprentice....top

and Victor the Legend

          Heroes!

Cover and interior art by Ross Jakubsen, age 15

I need Portals II for my great grandson, he called the first book awesome.  Dorothy O'Neill. North Carolina

Both of these books are going to my grandchildren in Australia. They'll love them!  Doris P. Greensboro, NC

Ryan, speaking  at the Kernersville Friends of the Library noon book club on November 5, 2009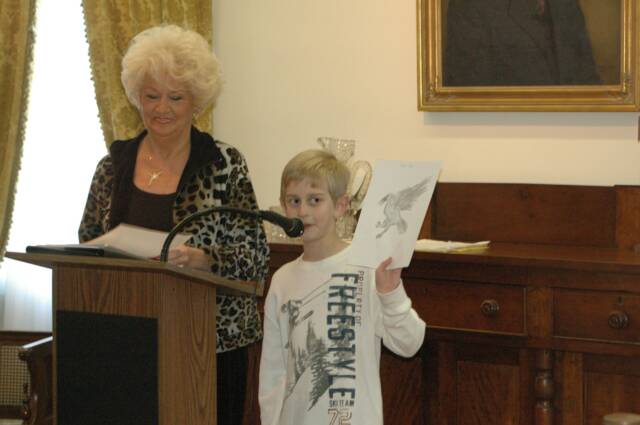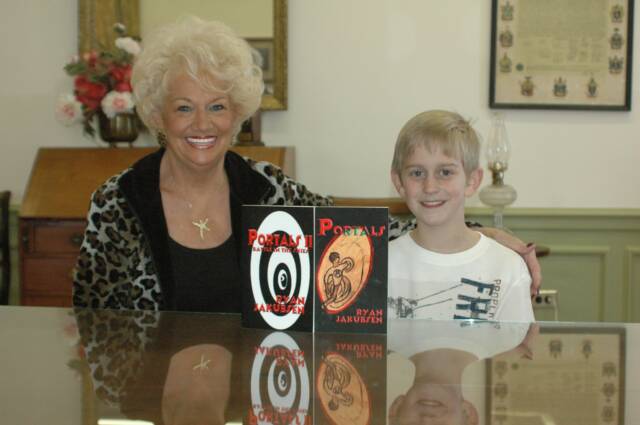 Photos courtesy of Duncan McInnes, News and Sports editor,                           Kernersville, News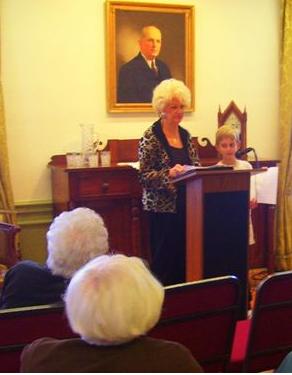 My family and I think it's awesome he's written two books already. I forsee great things in Ryan's future and I'm glad I had the opportunity to teach him. Rita Canady, Ryan's 3rd grade teacher, Phoenix Academy

Dear Ryan,  I truly enjoyed reading Portals I and II. I am eagerly awaiting Portals III. I loved your various  animals and was thrilled that you used the American Bald Eagle, as well as mentioning that  it is our national symbol, as a hero. I thought it was also clever to use crabs, worms and ants, as well as the bigger animals. Your imagination process is fascinating. Keep up the great work.  Thanks for coming to visit us in Lumberton and please come again and bring your beautiful and sweet grandmother, Dixie Land.  Love to you both, Drina.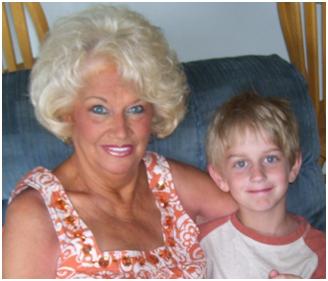 Ryan and Mimi the year he   began writing his first           chapter book.

I read both of Ryan's books over Thanksgiving, they are just like yours. You can't put them down without finishing them! They are great adventures, the kind of stories I love.  Mysteries and science fiction are my favorites. Dixie, tell Ryan I loved his stories and am waiting for his next book to come out. I plan to wrap these books and present them to my great niece and nephew for Christmas.  Karen Bartachek, band director and former teacher, Iowa.