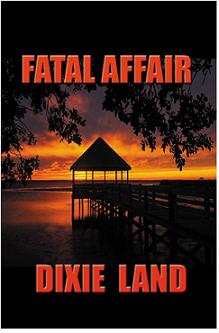 After Abigail Worthington suffers a stroke, the wealthy widow makes two critical decisions that will change her life and the lives of those around her. First, she hires nurse/companion Lydia Chandler, and second, she decides to spend the summer at her beloved beach home where she hopes to rest and continue her rehabilitation.

Before leaving for the beach, Abigail informs her property manager of her plan. But in her eagerness to return, she decides to go a day early without notifying anyone. What she and Lydia find when they reach Abigail's home stuns them. Thus begins the first of a number of incidents that throw this entire elite community into shock and turns their summer into turmoil. A romance heats up in the wealthy neighborhood known as The Cove as scandals threaten the careers of some very high profile individuals even reaching into the Federal Government.

5.0 out of 5 stars Dixie Land Does it Again, January 22, 2014

By Norma Hammer - Amazon Review

I was introduced to the author's work several years ago and since have read all of her novels. It had been awhile since her eleventh novel was published so was very happy to see she had another available. I enjoyed Fatal Affair so much! Throughout there was suspense that began on page one and continued right on to the end. Not only was there a beautiful love story along with all the intrigue but the precious little dog, Sandy, whom I loved, was of major help in solving the mystery too. I highly recommend "Fatal Affair".

5.0 out of 5 stars Fatal Affair, best yet., January 31, 2014

By Barbara W. Barton

(REAL NAME)  

Amazon Verified Purchase(What's this?)

This review is from: Fatal Affair (Kindle Edition)

You will not go wrong with this book. I know this writer personally and I know what she does and how hard she works to get it just right for us. I've read all of her books and they are all very good. Fatal Affair is her best yet. She will autograph you a copy if you want it in paperback. This book grabs you from the very beginning and is hard to stop reading. I am fortunate enough to be able to start it and read until I get to the end. Well written and guarantee you will want to get her other books. Take a chance and then write a review. Dixie get started on the next one. You just get better and better.

Dear Dixie, Just finished Fatal Affair.  What a joy to see such strong, determined characters that you created in Abigail, Lydia and Kim. An exciting story from start to finish! Thanks for another thriller and  great read!

Kathryn M. Fisher, author, One Unforgotten Summer and Up a tree with Tatie Wee.

Another great book, Dixie

I half way guessed a bit of what happened. Loved the female characters!

Also liked the diamond in the... Thanks for giving me something good to read. Love, Ellen

Yesterday I finally finished your book. I battled my eye sight and kept changing my glasses until I could finish it. It was so good! I like each book better than the last one. You brought in the dead body sooner in the book, so it brought me more excitement. I never can guess what will happen and that is what I especially like in a book. You are the best author!

  I had to laugh when you had Kim come and bring with her a little doggy carrier. Then later, little dog Sandy was key in solving the mystery. And I thought, yes, this is a Dixie touch, I loved this!! It helps me to know the author and I'm so glad to have you as my friend. God Bless.  Karen B.

Dixie,  I read your book last week and, as usual, I could not put it down.  That's the way it is with your books. Once I start reading them, I forget about housework and every thing else. It was very, very good!!!   Lynn, North Carolina