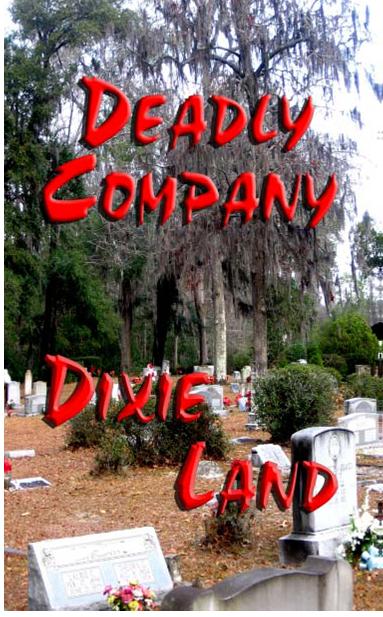 After  Diana Delaney and Pamela James stumble onto a huge  embezzellment scheme at the company where they work, mortal threats and a murder force Diana to flee her Midwestern home. She takes refuge in a secret North Carolina location and begins life anew. She soon becomes immersed in the lives, as well as problems, of her new friends. Then to her horror, the deadly threats begin again.  How did her stalker trace her?

As Diana begins to uncover the answers, she finds herself  a  helpless captive in the terrifying grip of her predators. She must use all of her cunning and courage to escape their well thought out, bizarre plan for her demise!
I got Deadly Company yesterday and read the first 100 pages last night. It's very good. That's all I can tell you now until I finish it. I'm still trying to figure out if Weston was murdered, and if he was, for what. Is there a connection in his death and Pam's murder? But don't tell me!  I'll send a note when I finish.  Bud Kruse, Pinehurst, NCadI d text.

I finished Deadly Company yesterday. It's very good, Your ability to keep your reader's attention by your clever ending of each chapter is great.  You kind of stumped me in solving who murdered Pam, what Weston's connection was with the murder of Pam and who was sending messages to Diana.  I did suspect something about......................... The ending really surprised me, and I anticipate another book in your mind with the same characters. Another great Dixie Land book!  Bud Deadlto add text.

CHi Dixie,   I started reading your book after dinner last night. I kept thinking I would finish one more chapter...I finished the book....at midnight!  I needed to know what the next chapter would bring. I love your writing style. You tell a wonderful story and your twist to mystery is masterful!  I look forward to reading more of your books and the next plot involving Ashley.  I admire your talent!!!  Patsy L.  Greensboro, NC PEO

Oh my Gosh! Just when I thought Dixie Land couldn't do any better-- she did!  The characters in Deadly Company didn't have time to stretch. They start running, soon are racing, then flat out full speed to a trembing and breathless finish. I ran every inch of the way with them and was holding my breath by the finale. Go Girl!!

Kathryn M. Fisher, author of upcoming novel, One Unforgotten Summer.

The suspense began on page one and continued throughout the book. When I got to the end of a chapter I couldn't put it down because something mysterious was always going on, and I couldn't wait to find out what  would happen next! The little girls in the book are just adorable and, as you read about them, they seem so real you feel you'd like to hug them. I've read all nine of your books, and I can't wait for the next one. They just keep getting better and better. The story seems so real that you have to stop and think, hey, that was just a story...the sign of a good author!

Norma Hammer, Clinton, Iowat The .

C

l've started Deadly Company and am loving it. It's hard to put down. I'm over half way through it.  Vern L. Topeka, Ks.e to add text.

I've read Deadly CompanyeJust couldn't put it down--the action flows from chapter to chapter so you want to keep going. Was surprised by the ending--like that in Ryan's book (The End?)  D. M. Marbury, Ark.

Hi Dixie,  just wanted to let you know how much I enjoyed your last book, in fact, all your books!  I read this one in three days, everything else was let go until I finished the book, I could not leave it alone, very, very good! Girl, keep the books coming, I love to read! LLove, Vern       Kansasv Dizis to add text.

I  thoroughly enjoyed Deadly Company!  It was a real page turner and I'm eagerly  looking forward to its sequel. (Because, doggone it, you ended it with a cliffhanger!)    Elizabeth H.    Hendersonville, NC tDeado add text.

Hi from Savannah, Sue has read the book. She promised me she wouldn't read the end first!  She said it was a GREAT ending!  I'll read it soon.  Love, Bill,e to add text.

All of your books are great, but you outdid yourself on Deadly Company ! The manner in which you built up suspense caused this reader to become almost breathless!  D. E. Joyner, Authorlick here to add text.

Hi Dixie,  I finished reading Deadly Company last night --well past my bedtime. I suspected that.....but it still surprised me when...... What an ending! Or, was it? I smell a possible sequel. Good job!  Helen Goodman, author, Harelquin World Wide Mysteries.

Dear Dixie, Thanks so much for the book. I have enjoyed reading all of your books and this one is starting out to be the same. I hate to have to put it down once I start reading.  B. Summerville, Statesville, NCk here to add text.

Dear Dixie,  Thank you for sending my book so promptly. I was really anxious to receive it and start reading.  Once again, you've done it!  It again is a real "page turner," as all of your books. I've thoroughly enjoyed each one and this one is no exception! I love the way you end each chapter with the anticipation for the next one!  In this way, I simply cannot put the book down! I am now anticipating the next book you will write!  Never stop!!! tThe way Deadly Company ends (?), it seems like there will be a sequel! Am I right? What a great book!! Jo Lynn Plonski,  West Allis, Wi.

You have done it again! I think this is the best yet and can't wait to see where you go with the sequel. Deadly Company grabbed me and I could not put it down. I love the plot, the characters and the familiar places it took me. This book took me on a journey that was so exciting and at 1:30 a.m. I finished it. I would catch myself becoming part of every scene and I would be tense and anxious and  I wanted  to help the characters so badly. I loved it and will be glad to get my hands on the next one. Keep up the good work. You make us proud.    Your new friend,  Barbara Barton

My Dear Dixie,  I have residents reading your books who have never read a book before. They are asking for more!  Thank you again!  Love you, Mr. Newsome, Greensboro, NC to add text.

I was up till 2 a.m. this morning reading. Once I started, I could not stop. Really enjoyed, great book! It should be a great seller!  N. Sexton, Marietta, Ga.dd text.

Dear Dixie,  Thanks for sending the book so promptly. I loved it so much. You did a super special job on it.  I enjoyed every moment while I was reading it, I didn't want to put it down once I started it. I was really surprised by the ending. WOW!  It looks like there should be a sequel, I hope so! A beautiful story.  Love, Shirley E. Pioche, NV

Dixie Land does a great job of setting up red herrings to further the suspense in her well plotted new novel, Deadly Company. As Diana Delaney and Lance Cassidy fight their separate battles and grow closer, you'll say to yourself, 'I'll read just one more page, then put it down for a while.' But for some reason you find yourself turning page after page until you realize there's no good place to stop until you come to the end. Great job, Dixie!  Lynette Hall Hampton, author of the Reverend Willa Hinshaw Series and stand alone, Duo of Opposites. text.

Hi, Thought you might like to hear from someone else on your new book. One of my friends, that we share books together, called today after reading Deadly Company and said: "This is her best one yet! Hope she does a sequel to it!" Have you given it any thought?  Nell, Marietta, Ga.

Dixie, I sure had a hard time putting this book down. I read it in two sittings. I told my husband, Frank, that you need to get busy on the sequel...right now!  Bobbie Umfleet, Greensboro, NC here to add text.

Hi Dixie, I just finished reading your last book and want you to know how much I enjoyed it! But--you sure left a teaser there at the end--now, I'm looking forward to the next one. So you better get busy on it!                Hugs, Sally Farr, Alumn network, Californiaie,Click here to add text.

August 28, 2009

Hi, l read until  midnight last night and arose anxious to continue reading. I am halfway through chapter 34 and eager to get back to the book! Very good and well written.  Later

I just finished Deadly Company . It's  a captivating mystery that compels one to keep reading. There is really no place to stop until it's completion. It's a series of mysteries that all tie together nicely. There's a reason I said completion instead of "End".  It really doesn't end there and leaves one to draw their own conclusion.    Kenneth L. Topeka, Kansas

Kenneth,  the sequel is under way!!  Dixie

Dear Dixie,  It was good hearing your grandson and having you return to Lumberton.  Your book was terrific. I read it in one day and so did Helen. I couldn't put it down. You surprised us in the way it ended. I just knew it was the .............but it wasn't!  It ended in a way that you have to write a sequel to let us know what happens next!  Friend, Nash Odom, Lumberton, NC

Hi Dixie, I finished Deadly Company llast week and I really enjoyed it. I immediately passed it on to another friend. What an  ending...when will the sequel be finished?  D. Hedgepeth, Lumberton, NC add text.