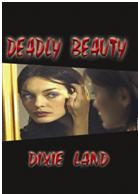 In Deadly Company, Diana Delaney narrowly escaped death at the hands of Ashley Marsh and Rob, her accomplice. During her rescue, Rob was killed, and Ashley suffered a head injury that led to amnesia. She was confined to a mental hospital for treatment  before standing trial for kidnapping and attempted murder.

As Deadly Beauty begins,  Ashley, who has kept the return of her memory a secret, has escaped from the institution with another patient and disappeared without a trace. Months later, the wreckage of a car and remains  of the man she fled with are found at the foot of a North Carolina mountain. Remnants of her clothing are scattered near the crash site.  Her bank accounts are still open, her condo is untouched, there has been no contact. At last, it appears Diana and Lance are free of Ashley and her obsession with Lance and his daughters...or are they?

         Reader  Reviewseto add text.

This is the best!c I left work today and went to visit a couple of the ladies in my Sunday School class. When I came home around 2:00, I sat down with the book. I just finished it and it is the best one yet. I didn't even eat supper.  Bill had eaten something and he went to bed but I could not put the book down. It is wonderful. I am amazed at how you keep all this together and running in order. You have a wonderful talent and now you know I am going to say, "Let's get going with the next one!"  I LOVED IT. I was so afraid you were going to leave me hanging at the end. Beautifully written and definitely one you can't put down.  Thanks for a good read and a pleasant afternoon. Barbara B.

(Barbara and I met after she read one of my books, Exit Wounds, and contacted me to order the rest.) Since then we've become friends and enjoy lunches together...Dixie here to add text.

I read this book in two sittings and thoroughly enjoyed the story.

A magnificently plotted novel centered around the most deliciously diabolical character I've had the pleasure of meeting. Don't miss it!

David  Shaffer, Creator of the Harry Caine Mystery Series. to add text.

I just finished Deadly Beauty and it was the best yet! I've read all of Dixie Land's books and they just keep getting better.  Each one is better than the last. Dixie has a way of keeping you in suspense from the very first  page. Be sure to begin the book when you have time to finish it, because you won't be able to put it down.  You just have to know what's going to happen next and only Dixie could weave a tale of suspense like she did in this book. I can't wait for her next one to go to press!  N. J. Hammer, Clinton, Iowahe bre to add text.

I just  finished Deadly Beauty while in Wilmington. Good ending!  I knew she was going to attempt  murder and I felt that........But good job! A surprise ending. Very good book.  Ellen Elizabeth Hunter, author of the Magnolia Mystery Series.  Greensboro/Wilmington, NCre to add text.

I had to finish Deadly Beauty no matter how late I had to stay up. You end each chapter with a bit that makes one have to go on to the next chapter...and I was anxious to see how you were going to get the villianess brought to light. She was so devious!  Thanks for another good read. I am so proud of you!  Dixie M. Marbury, Ark.eno  to add text.

Deadly Beauty is the perfect ending to a two-book series. As a sequel to Deadly Company, it pulls the reader back into the lives of troubled and evil Ashley Marsh as well as her brother-in-law Lance Cassidy and his new wife Diana. Obsessed with Lance and his two daughters, Ashley will do anything to make them her family, even if it means killing Diana to achieve her goal. This book is well plotted and leaves the reader completely satisfied with the resolutions of the intriguing events of the story. Well done, Dixie!

Lynette Hall Hampton, author of the Willa HInshaw series and five other published novels including the recently released Your Place or Mine, a romatic suspense set at Myrtle Beach, S. C.. e to add text.

Hi Dixie, Wow! What a finish to your latest book. I just knew Sara was going to try to kill again, but I couldn't figure out just how. Several times the action could have gone another direction, but no, it passed and  another chance was just around the corner. Then I figured she was going to try to......  With my poor eyes getting blurry with every couple chapters, I didn't know if I could finish it today. But, with various lights on, magnifying glass, standing by the window with sunlight shining in, and extra eyedrops in my eyes, I managed to finish the book.

I can hardly see to type but just had to finish the story. This has to be your best!!!!!!!!!!!!!  (hand clap...Bravo) I sure hope there are many more books coming out of your head!!   Karen B. from Maquoketa, Iowa.

e to add text.

Dixie,  This latest of your mystery novels was one exciting reading experience. From the first page through the last, it was a breath-holding read!  Your characters were developed in such a way that they will be remembered forever.

D. E. Joyner, author of  one family novel and two mysteriesre to add text.

P. S. from Karen B. Dixie, you are tops in my book. I don't know how you come up with these terrific stories.  I'm so glad Norma gave me my first book of yours.  I'll keep buying your books, even if I go blind and then I'll make somebody read them to me!cfromk here to add text.

Hi Dixie, I started reading Deadly Beauty late yesterday afternoon and when I looked at the clock, it was 12:30 a.m.

I got up this a.m. and finished it.  I loved it!  I also love the way you make good people expect the best from others even when those people aren't so nice.  Keep writing!  Kathryn M. Fisher, N. C.  Author of One Unforgotten Summer.e to add text.

To Deadly Land!   Dear Dixie,  Talk about the Perils of Pauline--Poor Diana D/C has suffered enough to keep her on the shrink's couch for another year or so anyway--another good read! Jean and I both enjoyed your latest. Paul and Jean R., California

P.S. Don't you think it's time for Diana to have a baby? Or would that complicate her life too much?r here to add text.

Just finished Deadly Beauty.  It's one of your best. I wish it had been longer, it was so good!  Hope you and your family have a wonderful Christmas and that you write a couple more books for us all to enjoy!  Pat Smith, Arkansas

I meant to tell you, Jean started your book and likes it as usual. She said she can't figure out what's going to happen next. She's really enjoying the continuation. When she unwrapped the book, she said,  "Is this about the woman who escaped?" She hadn't forgotten a thing about the previous book.  Wanted you to know how much your books are enjoyed. Love, Kathyk here to add text.

I finished Deadly Beauty on the plane ride back from Denver. I Read the end just as we were getting ready to land. Fantastic job on that ending. The last thirty pages were riviting!  Wm. J.J. Georgia. ReashedClick here to add text.

I loved your new book! Best yet! Joanne Clarey, New Hampshire, Author of the Ellie Hastings mysteries, Skinned and Twisted Truth.k here to add text.

Hi There,  You haven't heard from me lately because I've been busy reading your book and loved it!. I remembered the last one as soon as I started reading this one.  For me it was a combination of things I expected to happen and then the most unexpected that kept it most interesting.  Mother is enjoying her copy too!  D. K. Hall, Vienna, Va.ck here to add text.

I read your latest book, Deadly Beauty, almost immediately, Dixie, and once again you have your readers spellbound with it. What a good story. I just could not put it down!  That's how I have always felt about your books. I love how one chapter leads to the next.  What a very clever way to write. It really keeps the readers attention.  I'm so glad I've met you. You are one of my favorite authors, and I wait impatiently for your next book. Keep up the beautiful work!  JoLynn, West Allis, Wi.khow  herowe to add text.

II finished your book on the airplane yesterday and really liked it. It still amazes me how you and other writers have the ability and imagination to produce something like this, especially when some of the characters are deranged. My hat's off to you! LLH  Tx.kMy hat here to add text.

Dixie, I just finishedaDeadly Beauty. What a scary ride you took me on! You have a great ability to get into a very sick mind. Makes me wonder a bit about 'sweet little Dixie'. I'm glad you're not mad at me!  Great job.  Helen Goodman, author

By the way, Dixie, I've been meaning to tell how I really loved reading your Deadly Beauty! Kept me reading into the night which is something I don't usually do! Now I look forward to your next one...Anne G.  MaineKhere to add text.

YYou are a great author of books. I've read many books in my life, but most of them I could put down and maybe get back to them and maybe not. But with yours, I have to stay up all night regardless of the schedule.  Love, K.B.ere to add text.